Main Content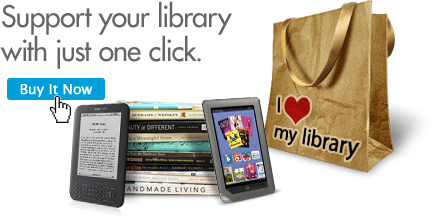 Click Here First
Help Our Library WIN!
No affiliates exist at this time. Please check back later.
How does it work?
A portion of your purchase from the OverDrive WIN Affiliate Retailers using the "Buy it Now" link from your library's website is credited back to this library.
How will my library use the funds it earns from my purchase?
The funds your library earns from the OverDrive WIN Affiliate Program will be a credit for the library to add digital content to its virtual branch. The titles and materials the library selects are at the library's discretion.
Are the funds credited directly to my library?
Yes. The WIN Affiliate program is managed by OverDrive, Inc. who collects the funds from the WIN Affiliated Retailer. OverDrive issues a credit to the library for the entire amount of the affiliate fee.
How do I know what is a qualifying purchase for my library to get credit?
When you use the "Buy It Now" link, any eBook, digital audiobook, and other items purchased from OverDrive WIN Affiliated Retailers will provide this library with a credit from your purchase.
How do I choose a retail partner?
When you select the "Buy it Now" link on a title, you will see a list of OverDrive WIN Affiliated Retailers. Clicking on a Retailer's logo will link you to that Retailer's commercial website. Not all Retailers offer the same titles or formats that your library does, and the content available may not be compatible with all devices. Please review the Retailer's website for additional information. We will be adding OverDrive WIN Affiliated Retailers, so please note that this list is subject to change.
Is my purchase tax-deductible?
No. Purchases from OverDrive WIN affiliated retailers are not tax-deductible.
Can I donate my purchase to my library's collection?
No. The title(s) you purchase are intended for your personal use and cannot be added to your library's virtual branch collection.